Second World Urbanity: Between Capitalist and Communist Utopias, is a project that explores the history of conceiving, building, importing, and inhabiting socialist cities past and present from Cuba to Yugoslavia and Russia to China. Initiated by historians Steven Harris and Daria Bocharnikova this project brings together researchers from a variety of disciplines to reflect on the specificity of urban design and its uses in the Second World. Our goal is to shatter a common image of the socialist cityscape as necessarily dull and grey, and offer a revised understanding of its limitations and achievements. The project is envisioned as a series of informal conversations, virtual and offline meetings, book discussions, and  conferences followed up by the publication of the selected essays.
If you have questions and comments about the project, please drop us a line at swurbanity@gmail.com or post a comment on this blog.
All the best,
Daria Bocharnikova and Steven Harris
_______________________________________________________
  Daria Bocharnikova is an architectural historian specialized in Soviet urbanism. Originally from a small industrial town in Russia, she lived and worked in Yekaterinburg and St. Petersburg, undertook postgraduate studies in Italy and the US. In 2012, she started teaching at the Faculty of Liberal Arts at St. Petersburg State University on Soviet history and urbanism. After spending one year as a post-doctoral fellow at Harvard University, she moved to Brussels (Belgium) where she began to work as a curator of Russian and Eastern European programs at the Center for Fine Arts BOZAR, while continuing to collaborate with different universities, including KU Leuven and Free University of Berlin. Her main ambition of these past years was to transcend the boundaries of academic world and find a way to connect her passion for learning and teaching with other forms of civic engagement.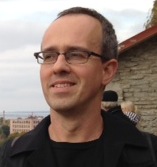 Steven E. Harris is Associate Professor of History at the University of Mary Washington where he teaches courses about modern Russia, socialism, and conspiracy theories. He is author of Communism on Tomorrow Street: Mass Housing and Everyday Day after Stalin (2013) and presently writing a second book, "Flying Aeroflot: A History of the Soviet Union in the Jet Age." Read more about his research and teaching interests here.